Past Events
World Mental Health Day celebration Oct 2019
Island Sports Trust, Island gardens, Isle of Dogs, London, United Kingdom
World Mental Health Day celebration Oct 2018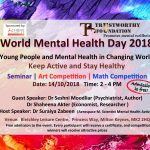 WMHD 2018 Banner-2
List collection of mentally challenged and homeless females
Inauguration of TWF School and 3rd Anniversary 2017
Trustworthy Foundation celebrated their 3rd Anniversary at their Dhaka office located in Mirpur. A free pre-primary school was also opened. The school started it's journey with 7 students. To mark this journey the children participated in the Art competition. Prize was given to the top 3 arts
TWF officials Attended Social Service Training 2017
Md Sarwar-E-Kainat attended the social Service training.
International Mother Language Day Celebration 2017
International mother language day was celebrated by Trustworthy Foundation on 21st February 2017. Along with Dr Suraiya Zabeen, Mr Aminur Rahman, Mr Shahriar Shaker, Mr Sabir, Mr Sani showed their respect by giving flowers to the 'Central Martyr Monument' (Shahid Minar) at Dhaka through a disciplined procession 'Provat Ferry'.
International Mental Health Day celebration 2016
International Me
A one day work shop on children's mental health 2015
Trustworthy Foundation's 1st Anniversary celebration, 2015
Eid-ul-Fitr gift Program 2014